These are self drafted heavy linen faux wrap ankle pants that are like Eileen Fisher's from this past summer.
I just loved her version but didn't think I'd actually wear crepe pants much.  This fall, Eileen Fisher is showing a lot of wide leg ankle length pants like these: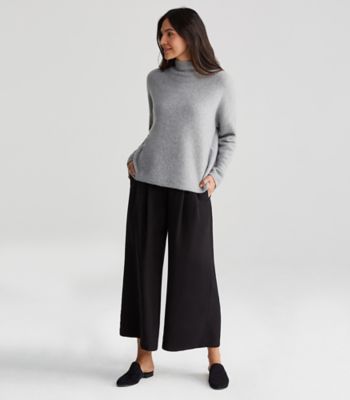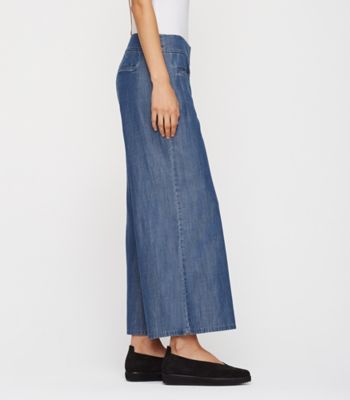 Wide is great in the South!  Until the first frost, but hey, we're talking fall, not winter here!
Here is one view.  Black is incredibly difficult to photograph.  When I drafted these pants, I didn't want to bother with inserting a zipper.  If I do them again, I probably will bother with inserting a zipper.
I put elastic on the back of the pant and thought the faux wrap tie would cinch things up nicely.  Unfortunately the linen is heavy and they tend to droop a little.
The faux wrap is actually sewn into the right side seam.
In this photo above, the wrap part is opened out – you can kind of see that it is attached to the right side seam.  Trust me, it is.
The front of the pant is just a curved waistband that is installed as a facing.  I have high hips and need that curve up there.
What do you think of wide leg ankle-or-above pants?  Do you remember culottes?
Happy Creating everyone!